Confessions of a Riku Fangirl (Are you Obsessed?)
Fangirl-ish Outbursts of Riku
First of all, I'll begin apologising in advance for any fangirlish outbursts that occur during this Blog. Riku can have that effect sometimes.
There comes a point in every girl's life when things start to change. You shoot up in height, things start to grow and suddenly, the bad boys in the world(s) (fictional or not) become a lot more appealing. The boy that featured in the latter of those changes for me was the smexeh anti hero many of us KH fangirls know and love; Riku.
The original good boy, gone bad of Kingdom Hearts.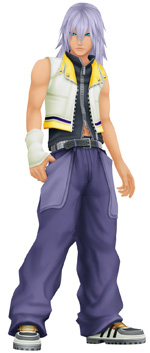 It started out as wishing I was playing as him rather than Sora, then with each brief appearance he made, clearly heading down the road to sexy darkness.
My obsession grew, until it reached the
point I was sticking him to my school diary and making separate save points, due to a lack of cutscene player, just so I could see my favourite scenes that featured him, as
many times as I liked. Over and over.
However originally for me, Riku was an annoyance, as was every other character in the game. For I was a fickle fangirl, and in the beginning I was only interested in playing Kingdom Hearts for the sole reason of reaching Halloween Town, as the Nightmare before Christmas was my obsession at the time.
Little did I know that it would not take long for Kingdom Hearts to find its way into my heart and stay there for a long time.
So what was it about this character that seduced me and many other girls (and plenty of boys, I'm sure) into the realms of fanhood? Well for starters, there's his unforgettable first appearance. He is the second character that appears in the opening movie, his hand reaching out to the camera, beckoning you (and Sora I suppose) to join him in the water (omphgerYES). But Sora is
too slow! The fool.
Sora VS. Riku
Though saying that, I think Sora is a large part of why Riku has such a draw for players. Sora is innocent, he has a heart of gold, he wants to save the girls and cares about all the
people he meets on his travel. How dull…
Then there's his rival, who has been thrust into the same situation as Sora. He does things a little differently, he takes the bumpy path. The path with purple portals and
skin tight outfits.
As is the case with cinema, the player empathises with Sora and his feelings, in a way that is perhaps stronger than the bond between protagonist and audience than in films, due to the fact that we ARE Sora. We are chained to him alone, a trait that makes other majorcharacters more alluring. The bond the player has with Sora is developed by the flashbacks to his days as a kids on the island with Riku.
The player's opinion of Riku is affected by the way Sora looks up to him, the rivalry seen between them from the start. Even in their very first cutscene, we begin with seeing Sora snoozing on the beach while Riku is carrying a massive log (with ONE ARM!).
This states something very clearly;
he's bigger, he's better and you can't match up to him because your hair isn't as cool and those shoes are way too big. Which deliberately makes the player want to defy that statement.
There is also the competition between them for Kairi, put in place by the obvious message
that the paopu fruit creates; only one person can have her. Riku taunts Sora (and essentially, us) with this prize, which is reflected on another level as the plot develops.
Sora's relationship with Riku is another force that drives you towards victory, in addition to saving worlds from heartless and rescuing Kairi. The fact that his presence goes from
being almost permanent at the very beginning to very scarce throughout the rest of the game, it only adds to his mystery, driving the player to learn more about the journey that started the same as Sora's.
You follow his progression and learning curve as keenly as you do Sora's. His story is a parallel, both of them desiring the same thing
but taking very different routes. However, its the ending cutscene that really tugged my heart strings and brought me to tears upon seeing it for the first time. (and okay.. a couple more times after
that)
Riku's Progression
The fact that in Chain of Memories Riku was made yours was a real bonus, if only for the way he strutted through the game and his jumping capabilities. Because of the restriction of playing as only Sora in the first game, any opportunity to play as Riku feels like a
different experience. All the empathising we did with Sora in Kingdom Hearts, all the looking up to Riku, makes the gameplay with him even more enjoyable.
Riku's character has changed as the series has moved on to different platforms and plot lines. However, for me, it is the way he is represented in the first game that I love the most. It's quite fun to analyse his role in detail, but I'm afraid even I can't give an explanation for the yaoi fanfiction/fanart. I think that's something that comes down to personal taste!
Why do you love Riku?
(Or are you obsessed with someone else?)
So what is it about Riku that appeals to you? Do you like where the series has taken his character? What were your first impressions? Or alternatively, which KH character are you obsessed by?
What do you think of Riku?
My obsession lies elsewhere (Leave Comment) (46%, 96 Votes)
I am a self-admitted Riku Fan-Girl/Boy (46%, 95 Votes)
I hate Riku! (8%, 16 Votes)
Total Voters: 207

Loading ...

"Confessions of a Riku Fangirl" was authored by Hannah aka Tidy, a veteran moderator on our KH Community Forums. Every Monday, we publish a Guest Blog from a member of the KH & Video-Gaming Community.