Game Information
Release Dates: May 30th, 2009 (Japan); September 29th, 2009 (North America); October 9th, 2009 (Europe)
Platform: Nintendo DS (NDS)
Summary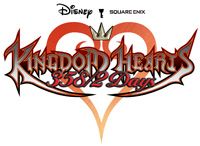 Square Enix revealed at Tokyo Game Show 2007 that a new unique installment to the Kingdom Hearts Series would be coming exclusively to the Nintendo DS.
In Kingdom Hearts 358/2 Days, Players learnt more about Roxas' time in the Organization XIII.
By engaging in both exciting single-player & multiplayer modes, many unanswered questions about Roxas' life (while Sora was sleeping for one year) are explored alongside offering Kingdom Hearts fans a whole new way to enjoy the series in a variety of Disney worlds.
Development
Director: Tetsuya Nomura (FINAL FANTASY V-VIII, X, ADVENT CHILDREN, KINGDOM HEARTS)
Co-director: Tomohiro Hasegawa (FINAL FANTASY VIII, X, KINGDOM HEARTS series)
Producer: Patrick Chen (KINGDOM HEARTS series)
Executive Producer: Shinji Hashimoto (KINGDOM HEARTS series)
Appearing Worlds
• The World That Never Was
• Twilight Town
• Destiny Islands
• Wonderland
• Halloween Town
• Olympus Coliseum
• Agrabah
• Beast's Castle
• Neverland