Gilbert Gottfried Recording For An Upcoming Kingdom Hearts Game
Gilbert Gottfried, best known as the voice of Iago from Disney's Aladdin, recently tweeted out a picture of him reprising his role as Iago for an upcoming Kingdom Hearts game. Signs point to Kingdom Hearts HD 2.5 Remix with the lines being for Kingdom Hearts Re:Coded.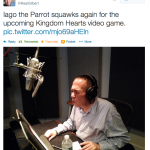 We are fast approaching E3 so news is finally coming out of the woodwork. Kingdom Hearts HD 2.5 Remix is set to be released this year for the Playstation 3.