Kingdom Hearts 2.5 Launch Showcase Event
Square Enix will be hosting a very exclusive event to celebrate the launch of Kingdom Hearts HD 2.5 Remix in North America! The event titled "Inside the Kingdom, with Heart" will be taking place on December 1, 2014, just one day before the game launches! The event will be tickets only and available through select channels.
At the event you'll be able to see a never before seen trailer, purchase Kingdom Hearts merchandise as well as an early copy of 2.5, and interact with some special guests! The event will be taking place at the Walt Disney Studios in Burbank, California with two different time slots, one between 2:30PM-5:30PM and the other between 6:30PM-9:30PM.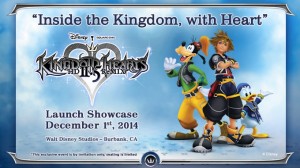 For the official rules check them out below or click on this link:
WHAT:
Inside the Kingdom, from the Heart – Launch Showcase
WHEN:
December 1st, 2014
Slot A*:
2:30PM-5:30PM
Slot B*:
6:30PM-9:30PM
*Final show times are subject to change
WHERE:
Walt Disney Studios Lot , Burbank, CA
So now to the important stuff, WHERE CAN YOU GET TICKETS??
Well, there are three ways you can get your hands on them below!
A link to an Eventbrite ticket page will be posted on the official KINGDOM HEARTS Facebook page on Tuesdays at 1:00pm (PST). Tickets will be very limited, and will go very quickly!
Pre-order the KINGDOM HEARTS HD 2.5 ReMIX Collector's Edition by November 18 to be automatically entered into the "Inside the Kingdom, from the Heart" Sweepstakes and 100 lucky winners will receive tickets! Pre-order here:www.kingdomhearts.com/collectors_edition

Full rules here: http://www.kingdomhearts.com/KHCEsweepstakesrules

Simply answer the following question by responding in the comments section below by November 18th and we'll select 25 people to receive tickets!

If you can ask 1 question to the KINGDOM HEARTS development team about KINGDOM HEARTS HD 2.5 ReMIX, what would it be?
Full rules here: http://www.kingdomhearts.com/KHblogcontestrules
*IMPORTANT: Tickets are limited to one per person! (Attempts to claim multiple tickets or tickets to both time slots via the Eventbrite pages will result in a cancellation of all your tickets. You may however increase your odds of securing a ticket by taking advantage of all three methods above. We apologize, but you must be 18 or older to attend the event. If you are under 18, you will not be admitted. Please do not claim tickets if you are under 18, as you will be preventing someone who is eligible to attend by doing so.)
Next week, we'll be posting more information on our official Kingdom Hearts Facebook page so be sure to Like it to be the first to get the update.
www.Facebook.com/KingdomHearts
Stay tuned for more details!