Kingdom Hearts HD 2.5 Remix Video Casting Call
Square Enix is giving fans a very special (and limited) opportunity to be in a special video collaboration to talking Kingdom Hearts HD 2.5 Remix!
The filming location will be in the Greater Los Angeles Area on September 6, 2014 between 10am to 7pm and you will be able to be filmed with the official Kingdom Key!
The details to enter are: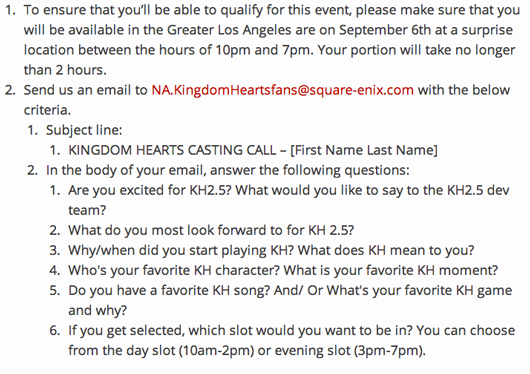 Square Enix will then notify you if you've been selected. Good luck to all those who participate!
*Please note if you are under the age of 18, a legal parent or guardian presence will be required or we will ask for you to sign an event waiver to be brought in on the day of the shoot.
Source: Square Enix Blog