KH HD 1.5 Remix Appears in VJump
Right on the heels of the Weekly Shonen Jump release, Kingdom Hearts HD 1.5 ReMIX has once again been featured in V-Jump. It includes more in game HD images including your fight with Sephiroth. You can look at the image below: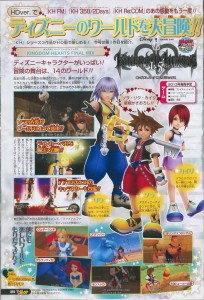 Zephyer of KH Insider has translated the article:
Cool Disney Adventure!!
Three works from the KH series in HD to play!
Introducing the first work in the mixing!

Full of Disney characters! In the adventure,there are 14 worlds you can explore!
Sora was separated from his homeland and is looking for his friends Riku and Kairi, he begins his adventure in various worlds. Meeting different parts of the heart of friends influencing him, together they go against the enemies they're confronting.
Riku, Sora, Kairi receive a new makeover! Sora changes costumes in certain worlds!
Summoning Tinkerbell's magic! During battle, you can summon other characters!
In Halloween Town, Sora changes to adapt to the world!! In Atlantica, Sora also takes on the appearance of a dolphin!?
Fighting familiar FF characters in the coliseum!
A long sword swordsman that boasts overwhelming force, a character from FFVII appears, Sephiroth participates in the coliseum!
Please have fun in other additional worlds!
Jump Festa begins on December 22, 2012 in Japan. Stay tuned for our coverage!
Source: bKvEBVAvUq & Zephyr