KH HD 1.5 Remix Featured at Disney D23 Expo in Anaheim
Square Enix has officially announced that Kingdom Hearts HD 1.5 Remix will be featured at Disney's D23 Expo in Anaheim, California from August 9-11th 2013.
For those that don't know, Disney's D23 Expo is an event which Disney shows off it's new media to their fans as well as take a look at Disney's history and more. Kingdom Hearts is usually absent from Disney related events and this has come from a surprise from Square Enix to have the game be represented at the expo.
A Kingdom Hearts panel has already been confirmed for Japan's first ever D23 event with voice actors appearing and even the series director, Tetsuya Nomura will make an appearance to talk about Kingdom Hearts III.
So if you've got some spare time and money, head on over to the Anaheim Convention Center and get your game on!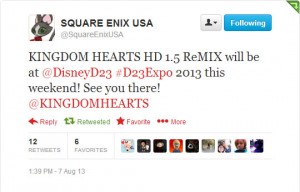 Source: Square Enix USA