Kingdom Hearts HD 1.5 Remix Special Commercial Impressions
With the special commercial campaign for Kingdom Hearts HD 1.5 Remix ending last week, fans who were able to participate in the event have tweeted their thoughts about it and some have taken images of some of the neat items they have received for participating.
The campaign itself  featured a photo shoot somewhere in Japan as well as each fan had to write down in 40 characters or less, their memories of events that happened in each of the three games. For Kingdom Hearts Final Mix, they had to talk about the opening of the game. For Re: Chain of Memories, they had to discuss the lost memories. Finally for Kingdom Hearts 358/2 Days, they had to write about Xion.
The special commercial is set to run around the time Kingdom Hearts HD 1.5 Remix is released in Japan on March 14, 2013.
Here are what some of the lucky participants had to say about their experience and a few photos as well!
During the day, we had to write a description in 40 characters or less about our memories of the scene. We were being photographed one by one. (@ mimi_alice00)
Writing our fond memories for each scene appears to differ in time length. When it was my turn, there were 16 people. They showed an opening, KINGDOM HEARTS Re:Chain of Memories was about lost memories, and KINGDOM HEARTS 358/2 Days was about the fourteenth member. (@ mimi_alice00)
In the middle of the billboard (laughs) (゜ ∀ ゜ *) (@ Noir_plus)
Souvenir poster (@ Noir_plus)
Some Information about the denim strap, denim pouch set, one FINAL MIX penset… (@ Noir_plus)
There were questions for KINGDOM HEARTS, KINGDOM HEARTS Re:Chain of Memories, and KINGDOM HEARTS 358/2 Days and there is a theme for each. We had to write in a limited number of characters. (@ Yossthan)
We had to write our impressions based on the HD footage they shown us. (@ Yossthan)
The famous Dentsu Inc. was in charge of this commercial! (@ Yossthan)
The contents of the KINGDOM HEARTS commercial photo session was held in secrecy. We were chatting in full harmony… (@ Skyloveyuto)
There were many goods along the way for people who participated in the shooting! (@ Skyloveyuto)
I finished the shooting!!! I got folders that wasn't for sale!! (@ __SORA__9502)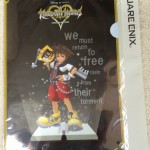 Souvenirs from the KINGDOM HEARTS HD 1.5 ReMIX commercial shooting! I got a strap. Many people got folders. (@ kakki_vivi)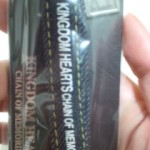 Impressions/Conclusions on Twitter (@ Okikuta4)
[KINGDOM HEARTS Commercial Shooting]
I went before the last day of the KINGDOM HEARTS HD 1.5 ReMIX event~ (Moonlit Meow)
Source: aibo_ac7 (Twitter), KH13, KH Insider, Moonlight Meow, @Noir_plus,@_SORA_9502, and @kakki_vivi