New Kingdom Hearts Wallpaper Celebrating 10th Anniversary
The official Japanese Kingdom Hearts has tweeted a special announcement for its fans . The tweet states that the Kingdom Hearts manga artist Shiro Amano, has designed a special wallpaper to celebrate the 10 years of Kingdom Hearts!
The wallpaper shows Sora, Donald, and Goofy with Ariel, Sebastian, and Flounder in the Atlantica world. The page also says that Shiro will return to work on the Kingdom Hearts II manga which will be released on October 12 in the Monthly Shonen Gangan. You can check out the wallpaper below: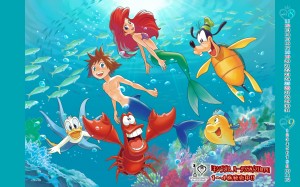 Click on this link here if you want other resolution sizes!