Kingdom Hearts Mobile Ending on April 30, 2013
Kingdom Hearts Mobile debuted on December 18, 2008 for the Docomo Prime Series P-01A mobile phone in Japan which was also the same phone that the original Kingdom Hearts Coded used will officially end on April 30, 2013.
For those who don't know, Kingdom Hearts Mobile was more of a social type setting where fans in Japan could play mini games, download themes, and interact with other players. The art style served as the base for Theatrhythm Final Fantasy and sold cute little avatar mascot straps seen at anime conventions.
Square Enix has sent out notices to every one who participated in the mobile game and thanks to ArikaMiz we have an image of the notice and thanks to Zephyr of KH Insider, we have a translation of the notice: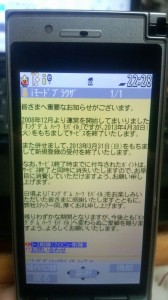 There is an important announcement for everyone.

We've started the service for KINGDOM HEARTS Mobile in December 2008 and it will end April 20, 2013.

In addition, we will stop accepting new registrations March 31, 2013.

Also, to tell participants ahead of time, points that have been gained will disappear at the same time at the end of the service.

On behalf of our staff, I would like to thank everyone who has enjoyed KINGDOM HEARTS Mobile.

While there's still little time remaining, we look forward to receiving your support regardless of KINGDOM HEARTS Mobile's future. Thank you.