KH for PC is now announced as Kingdom Hearts χ [chi]
Square Enix has now formally given an official title to the Kingdom Hearts for PC game that was revealed at Tokyo Game Show 2012. The official name is now KINGDOM HEARTS χ [chi] (the chi is pronounced as "key")! An update from the Kingdom Hearts blog "Message From The Kingdom" has provided the official announcement and we will add the description when it's fully translated but for now enjoy the logo below: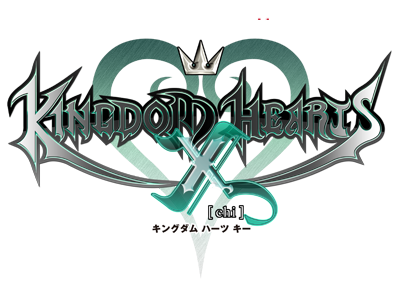 Zephyer of KH Insider has translated the description from the KH Blog:
KINGDOM HEARTS -HD 1.5 ReMIX- will be released March 14, 2013.
For the first edition copies, we are pleased to announced the details of the bonus from purchasing at the Square Enix e-STORE!

Bonuses include a serial code for KINGDOM HEARTS χ; which is an online PC browser game.

First edition copies include:
A useful set for KINGDOM HEARTS χ
1. Card: Sora (R+) (Used for battling)
2. 20,000 Munny (Can be used for synthesis, etc.)
3. Card Draw 4,000 Points (Points that can be exchanged in the game)

e-STORE Purchase Bonus:
Support set for KINGDOM HEARTS χ
1. Card: Riku (R+) (Used for battling)
2. Potion x10 (Restore the ability to take action)
3. Ether x10  (Restore your strength needed to fight a boss)

Both benefits are available when you buy through the e-STORE.
※ Limited

※ Images are under development.

KH STAFF
Thanks to SQEXGAL, if you pre-order KH HD Remix from Square Enix E-Store, you'll receive a Sora (R+) and Riku (R+) card for KHX.
Gamer.ne.jp has added images of the Sora and Riku cards for KHX: