New Tetsuya Nomura Interview in Famitsu; Mentions KH HD 2.5, KHX
The latest issue of Famitu features an interview with Kingdom Hearts series director Tetsuya Nomura. The interview was asking various game developers questions regarding the next generation of gaming. Nomura also recalls his first project working at Square Enix (known as Squaresoft back then) as a debugger for Final Fantasy IV. Nomura goes on to say that voice recording for Kingdom Hearts 2.5 HD Remix as been completed and he is also working on new scenarios for Kingdom Hearts X.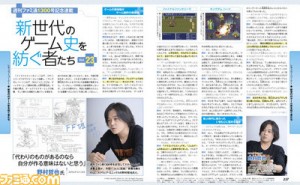 An excerpt of the interview has been provided by the hokanko blog, and translated by KH Insider's Zephyr:
Series Interview (The people who spun the new gaming generation) The 23rd is Tetsuya Nomura from Square Enix. He joined Square during the time he was helping debug for Final Fantasy IV. Kingdom Hearts 2.5's recording has concluded, and he has been thinking of further scenarios for Kingdom Hearts χ[chi]. He's also been raising a Scottish Fold Blue Tabby.
Source: hokako blog, KH Insider