Disney D23 Expo Japan Coverage
The first ever Disney D23 Expo in Japan has started today and already Kingdom Hearts has been seen and mentioned a few times already. Bog Iger, chairman and CEO of The Walt Disney Company made an appearance and gave a speech about the Expo as well as to remind everyone of the Kingdom Hearts panel that will take place on Monday, October 14th between 15:00 and 16:00 Japan time.
Appearing at the panel will feature the voice actors of Sora, Riku, and Roxas: Miyu Irino, Mamoru Miyano and Kouki Uchiyama and they will discuss what it was like working with the Kingdom Hearts series and answer fan questions from Square Enix Members Japan. Series director Tetsuya Nomura and executive producer Shinji Hashimoto will also be on hand to talk Kingdom Hearts III!
Follow us on Facebook, Twitter, Google+ and Tumblr as we bring you news on the go from the event as they come in!
Update 1:
An exclusive sketch of Sora drawn and autographed by Tetsuya Nomura on display will be auctioned at the Expo! (via @Luce10wa)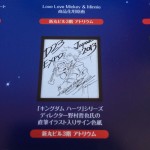 Update 2:
Bob Iger, CEO of the Walt Disney Company, made an appearance and spoke about the event with Kingdom Hearts being mentioned. He also mentioned an announcement to me made at the Kingdom Hearts panel.
Update 3:
Another look at the exclusive sketch being on display at the Expo! (via @star_klef)