Keyblade Transformation Artwork from the Exclusive Kingdom Hearts III Footage
At the Kingdom Hearts HD 2.5 Remix Launch Events in London and Burbank, fans were treated to an exclusive look at Kingdom Hearts III footage.
In the footage, Sora went through several Keyblade transformations including two guns and finally in to a cannon. Sora was shown with a new Keyblade as well. Zephyr from Kingdom Hearts Insider has done an amazing job recreating the transformations and Keyblade giving fans who weren't able to watch the footage a look at Sora was wielding.
What's your opinion on the Keyblade and transformations?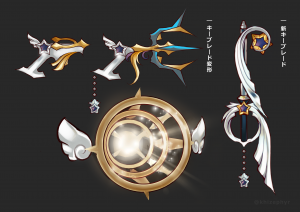 Source: KH Insider