UPDATE: Utada Hikaru Confirmed to Return for Kingdom Hearts 3
As most of us know, Utada Hikaru who sings the theme songs for Kingdom Hearts 1 and 2, has been on hiatus since 2011. Fans have been wondering if she will ever return to do the theme song for the long awaited Kingdom Hearts III.
Teruzane Utada who is Utada's father as well as her music producer and manager confirmed with a fan on twitter when asked if she was involved with the theme song for Kingdom Hearts III to which he replied with a simple "Yes."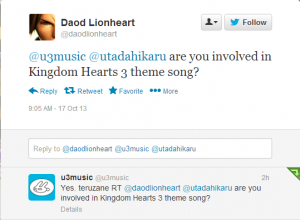 Please bear in mind that Kingdom Hearts III is still early in development and we may hear more on this subject in the future.
Update: It seems that Utada's father misunderstood the question and that the decision for being involved with KH3 is still undecided. Sorry folks 🙁
Source: aibo_ac7, daodlionheart