4/26 Issue of Famitsu Weekly to Contain Interviews With KH3D Composers
Takeharu Ishimoto on his official twitter tweeted that he has finished conducting an interview with Famitsu magazine for their April 26 issue. The interview will also include Yoko Shimomura and Sekido Tsuyoshi on their involvement with the Kingdom Hearts 3D soundtrack! Ishimoto also tweeted a photo with the soundtrack and Famitsu magazines.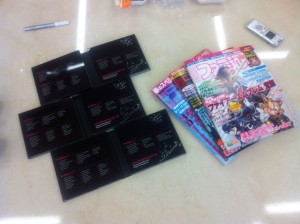 The soundtrack to Kingdom Hearts 3D will be released on April 18, 2012 in Japan.
Source: Takeharu Ishimoto's Twitter