Amazon KH3D Pre-Order Details
Amazon has updated their pre-order page for Kingdom Hearts 3D with an image detailing the Dream Eater's you'll receive if you pre-order through them. You'll receive one card that unlocks the R & R Seal, one card that will randomly unlock the Ursa Circu, Meowjesty or Sudo Neku and finally you'll receive another AR card that acts as a 360 degree stand for the Dream Eaters.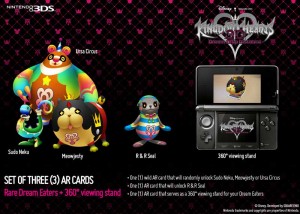 Click the link below to pre-order your copy from Amazon!