KH3D in Next Week's Famitsu (12/22/11)
Kingdom Hearts 3D is set to appear in the next issue of Famitsu magazine next Thursday.
The release of the magazine occurs a few days after the Jump Festa event that occurs this weekend in Japan.  With the release of Final Fantasy XIII-2 in Japan in a couple of days, Square Enix is setting their sights on Kingdom Hearts 3D so hopefully more news will appear more often now!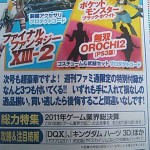 Source: miladesn (Twitter)