KH3D Tokyo Event & Memoir Menu in KH3D
The official Kingdom Hearts Japanese twitter account posted up a new tweet about having a preview of Kingdom Hearts 3D in Tokyo, Japan on March 3rd. There aren't any more details at this time but with February coming to a close soon, there will be an update to this.
Thanks to aibo_ac7 on her twitter, the official Kingdom Hearts blog "Message from the Kingdom", have posted a screenshot introducing the "Memoir/Chronicle Menu" feature in Kingdom Hearts 3D. The Memoir aspect allows you to review the tutorial process of KH3D as well as review events that has occurred as you progress through the game. The Chronicle feature allows you to read aspects of previous Kingdom Hearts games so players can get caught back up to speed in the story.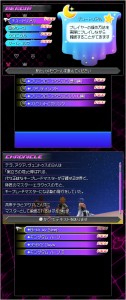 Source: Official KH Twitter (JPN) & Message From The Kingdom & aibo_ac7