KH3D 10th Anniversary Box & KH3D 3DS Price Details Revealed
Square Enix has revealed the Kingdom Hearts 10th anniversary box (now being labeled as 10th Anniversary 3D + Days + Re:coded Box) details on their official site under the "Spec." section.
The box contains (translations courtesy of KH13.com):
Kingdom Hearts 3D
Kingdom Hearts 358/2 Days
Kingdom Hearts Re:coded
12 piece card set showing the history of the series
Protective cover for the Nintendo 3DS
The box set will cost 15,000 yen (about $193.26) and will be released on the same date as the Japanese release of Kingdom Hearts 3D for Japan which is on March 29th, 2012.
If you want to check out the details on the main site or Famitsu's article, hit the link below: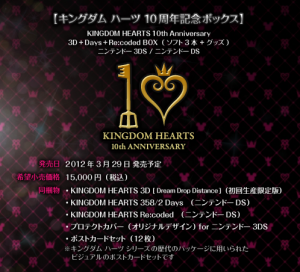 The Kingdom Hearts 3D 3DS has been priced as well! The special 3DS will cost 21,090 yen (about $271) and will be released in Japan on March 29th, 2012.