KH3D Japanese Release Date Announced/Special Nintendo 3DS Bundle/10th Anniversary Box
4Gamer has put up an article announcing the Japanese release date for Kingdom Hearts 3D along with an image of the special edition Nintendo 3DS made for Kingdom Hearts 3D!
The release date will be on March 29, a day after the 10th year anniversary for the series! The price of the game will be 6090 yen which is $79 US. The price of the bundle has not been released at this time but we'll update you when it is. As well as a limited edition of the game with an AR card, that unlocks a rare Dream Eater that is difficult to obtain through normal circumstances.
You can also find the image of the 3DS below, the other contents that go inside the box will be revealed at a later date: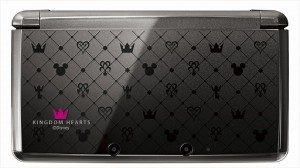 Also, in the article it is stated that a "10th anniversary box" will be released on the same date as KH3D, details are currently unknown but will be revealed at a later time.
Source: 4Gamer & aibo_ac7 & andriasang