Pinocchio World in Kingdom Hearts 3D (UPDATED)
Jump magazine has confirmed the new world in Kingdom Hearts 3D Dream Drop Distance and that world is the Pinocchio world. Dubbed as "Prankster's Paradise", the image shows a Pinocchio in with his donkey ears (and more likely his tail) and with the quote taken from the scan (with translation thanks to Tgirl), "We're in a circus cabin inside the stomach of a huge whale" it shows that it takes place inside Monstro again.
Jiminy also makes an appearance as he is shown on Riku's shoulder as well as more information about the "Land of Bells" will be revealed in this scan.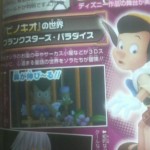 As we reported earlier that the new world would be revealed in Famistu, however it is the weekly Shonen Jump that revealed this world instead.
UPDATE: A larger and better scan has appeared! It shows Sora meeting up with Count Frollo and Captain Phoebus in the Land of Bells.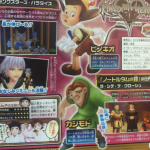 Full scan!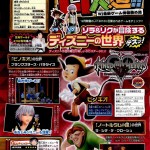 Source: 2ch & FF-Reunion & aibo_ac7 twitter