Square Enix Reveals TGS '11 Map
Square Enix has just reveal their floor plans for this year's Tokyo Game Show.
As you can see, a nice portion of their area is for Kingdom Hearts 3D as well as the closed mega theater is close by. The KH3D area will have stations for attendee's to try their hands on the demo! The Kingdom Hearts series in the past few Tokyo Game Show events have had certainly a large draw causing wait times for up to 45 mins or more. We hope to have lots of fans and press impressions starting in only 8 days!
Click the image below to enlarge the map: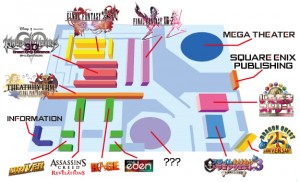 Source: Andriasang