New KH Birth By Sleep Final Mix Details!

Hey folks!!
A little bit of Kingdom Hearts Birth By Sleep Final Mix news has emerged coming from the Japanese site Amiami in which in their details about the game described several aspects coming from the game.
The following summary has been translated by Heartstation.org: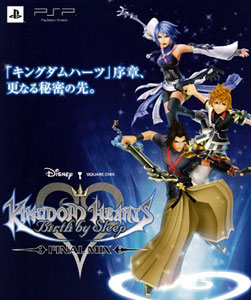 Genre: RPG
The Final Mix version is based on the North American version of BBS and adds various new features! Not just the elements that producers were unable to include in the NA version due to time, but other new features as well including the hard to obtain "Secret Episode"!
You can play in the "Secret Episode"!
This time you can run around for yourself in the world of the "Secret Episode"! Search around the new map and gradually come closer to something profound. What sort of shocking ending awaits us?!
The "Mysterious Man" appears in Single Mode!
After beating the game you can fight the spear wielding "Mysterious Man".
New bosses in Multiplayer Mode!
Fight Monstro along with your other armored pals! Have fun in battles that weren't seen until now!
Series director Tetsuya Nomura already mentioned a new secret movie is to be available in this release so being able to take control in the secret ending itself is something to be said!
Source: Heartstation.org