Square Enix's Jump Festa 2011 Page Now Open!

Hello again peeps!
Square Enix has opened up their site for Jump Festa 2011 event happening in December! The site has a list of information, the titles they'll show off, a twitter feed, a floor map of the event, merchandise, and even a mobile version of their page!
The two Kingdom Hearts games that will be at Jump Festa 2011 are Kingdom Hearts Re:coded and Kingdom Hearts Birth By Sleep Final Mix, in which the latter will have a trailer and also be playable!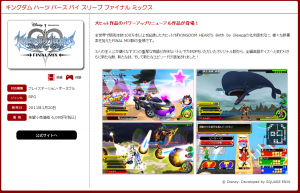 To access their page click here.
Jump Festa 2011 is to be run on Saturday, December 18th to Sunday, December 19th 2010 in Tokyo, Japan.