Kingdom Hearts 'Dive To Heart' Shirt
Hidemi Matsuzuka, the General Manager of Square Enix's Merchandising Division, has revealed a new Kingdom Hearts t-shirt design for sale in the future.
The shirt has two Kingdom Keys with the words "Dive To Heart" imprinted on it. No price nor release date are available as this time but we will keep you updated when it does.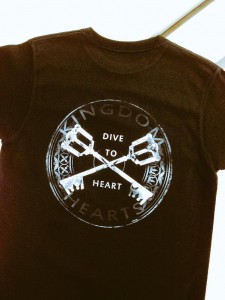 Source: Hidemi Matsuzuka