Kingdom Hearts 10th Anniversary Calendar Wallpaper (March/April)
Shiro Amano has once again given us another beautiful wallpaper to commemorate the 10th anniversary of Kingdom Hearts. This new wallpaper goes from the last half of March to the first half of April.
The wallpaper itself features Sora, Donald, and Goofy with Snow White and the Seven Dwarfs in a flower field.
You can choose which size wallpaper below: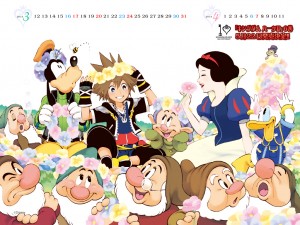 [1024×768] [1280×1024] [1920×1200]
Source: Square Enix Gangan