Kingdom Hearts Fan Event at Japan's D23 2015 Expo
Disney D23 has announced a Kingdom Hearts fan event at Japan's D23 Expo 2015.
While no guests or information was given at this time, more will be provided on Disney's website in April. Japan's D23 Expo will run from November 6-8, 2015 with the Kingdom Hearts fan event on November 3, 2015.
An excerpt regarding the fan event:
To celebrate D23 Expo 2015 Japan, a Kingdom Hearts fan event will be held on November 3 at Cinema Ikspiari, Tokyo Disney Resort. Program information for the event, Kingdom Hearts―The Theater (working title), will be posted on the official Disney website starting in late April.
Two years ago at the first Japan D23 Expo, is where we had the first look at the Attraction Flow system, what could we be seeing this time?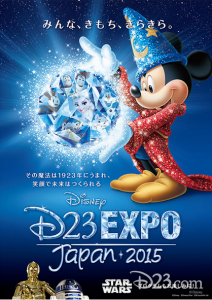 Source: D23 Official Site