Rare Kingdom Hearts Figurine to be Auctioned at Disney's D23 in Japan
Disney Japan has revealed that a rare figurine will be put up for auction at the upcoming Disney D23 Expo in Japan. The figurine is a prototype of Sora that was used as a reference to his character modeling. The box containing the figure is also signed and illustrated by series director Tetsuya Nomura!
The only way to grab a chance as this one of a kind figurine is to attend the event and have a Yahoo JP account. All proceeds will go to charity.
Disney Japan D23 Expo is from October 12 – 14, 2013. Tetsuya Nomura has so stated that more Kingdom Hearts 3 information will be available at the event so stay tuned!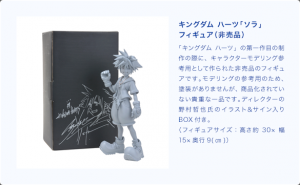 Zephyr of KH Insider has provided translations:
During the production of the first KINGDOM HEARTS, a figure was made as a character modeling reference. As a reference for modeling, there is no paint, but it is a valuable and rare item that has not been commercialized. The illustrator, Tetsuya Nomura, signed his signature on the box.
D23 Expo Japan is holding a special auction for limited participants. All 23 items will be displayed as auction items. Money from the highest bidder, Walt Disney will donate them to charity.

※ There may be a possibility that auction items may change.

Bidding Instructions:

1. You can participate in the Yahoo! Auctions from your computer, mobile phone, smartphone, or tablet.

2. To participate in the bidding, a serial code for D23 Japan Auction is required and it is free to sign up for Yahoo! JAPAN ID. We will enclose the serial code for participating in the auction by the time the ticket ships.

※ We will consider three points per person for successful bids.

※ You can't participate in the Yahoo! Auctions if you're under 18 years of age. If you're under 18 years of age, have your parents register to Yahoo! Auctions and supervise you. Please let your parents or guardian sign up for Yahoo! JAPAN ID.

※ For more information on bidding, in mid September, we will refer you to the official website and there will be a guide enclosed with the ticket during the time of shipment.

Bidding Dates:

October 12th 8:00 (Sat)~October 15th 22:00 (Tue)

※ There is a possibility that bidding times may be extended.

Item Exhibition Times:

8:30〜21:30

※ D~F Ticket buyers will be able to have early entry 8:00 to 8:30

※ A~B Ticket buyers, it is 15:00~20:30 or 8:30~14:00.

Item Exhibition Location:

Tokyo DisneySea – Hotel MiraCosta banquet room "Amore"

Powered by Yahoo!

Yahoo! Auctions is a service that allows you to participate in auctions online. Under the motto, "Anytime, anywhere, it is exciting for everyone to use", the name of the service Yahoo! Auctions has been changed to ヤフオク "YafuOku".

Exhibited Auctions Items:

– Check signed by Walt Disney

– Minnie's Yoo-Hoo Sheet Music

– Mickey Mouse Props

– Stitch Relief

– KINGDOM HEARTS Sora Figure (Not for sale)

– Stitch and the Sand Planet Originals (Stitch & Angel)

– Fireball Charming Autographed Illustration (Gedachtnis)
Source: KHInsider, Official Japanese KH Twitter