Kingdom Hearts Re:coded at Ikspiari Plaza!

Howdy folks!
The Ikspairi website has  put up the  times and scheduling for their Kingdom Hearts Re:coded celebration taking place at Ikspairi Plaza near Tokyo Disneyland!
On Monday September 20th from 11:30 to 12:15 on the 2F of the Celebration Plaza, visitors can enjoy a showcase of events and huge Kingdom Hearts statues such as the Sora statue that was revealed at the Tokyo Game Show!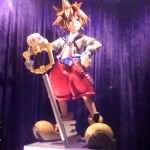 Then on Monday September 20, Thursday September 23, Saturday September 25 and Sunday September 26 on the 2F front side of the Disney Theater, visitors can enjoy a hands on experience of the game!
The times for those days are scheduled:
September 20: 11:00 – 13:00
September 23, 25, 26: 11:00 – 18:00
Please be aware that congestion  is expected and because of that, game playing will be limited!
For more information you can visit the official Ikspiari site at this link here. (The site is in Japanese)
Kingdom Hearts Re:coded will be released in Japan on October 7th, 2010.