Awesome Homemade Christmas Gift Ideas for Kingdom Hearts Fans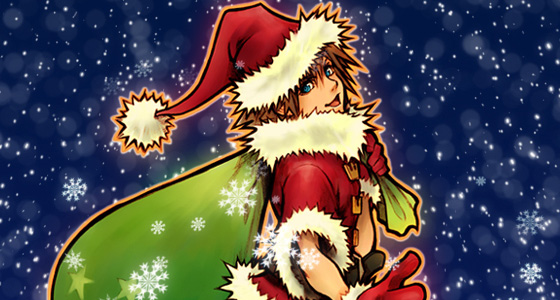 There are two pretty hot Kingdom Hearts ideas for Christmas we've come across recently. These will appeal respectively to taste buds and to the brain, so you'll have something for everybody you know! The common link is love for Kingdom Hearts, so you can of course combine these two and add your own enhancements, too.
Tasty Treats: Kingdom Hearts Cookies
The first idea is Kingdom Hearts cookies. These would be the perfect treat to a KH-themed holiday party, you could even ask the guests to cosplay as their favourite character, whether it be Sora, Kairi, Riku or whoever.
If you don't want to come up the recipe to create and bake these cookies on your own, you don't have to do. Just use this great recipe and make it simpler for yourself.
HINT: To make these yummy cookies, you'll only need to procure a heart-shaped and a star-shaped cookie cutter, both large.
Fun for the Brain: KH-Themed Bingo
On the other hand, if you have friends who already have too many baked items in their pantry, or are diabetics, or whatever, then you can pull together a very thoughtful hand-made gift that will appeal to even the biggest Kingdom Hearts fanboys / girls.
Making KH bingo cards is also nicely a economical option, and there are a few ways to make the cards. You could do it by hand, but you'll have to produce a card for each guest and player for each game you wish to play with them.
To make this simpler (that is, if you don't have a little army of youngsters eager to whip up your cards!) you can take colour originals to the copier shop and dupe as many as you'll need.
Using Technology …
You could use Microsoft Word (its Create a Table tool) and make the basic bingo grid of 5 rows by 5 columns. If you print your cards with the home printer, or you go to the copy shop, we suggest you take a glue stick to join that paper with a stiffer card-stock paper.
The easiest way of all to make your Kingdom-Hearts themed bingo cards is to let an easy Web-based tool generate them for you. There are various methods to get the final product, from downloading the file to print or having them sent to you.
High Tech Kingdom Hearts
For the most industrious people who already visit this site www.bingoonmobile.co.uk and play bingo games on their mobiles there are actually Buzzword Bingo apps that create virtual bingo cards playable on a mobile phone or tablet.
In this variation, your holiday gift would consist of sorting out everyone with the app, and coming up with the joke-words. You will choose victims from amongst the guests: Buzzword hinges upon the victim speaking the funny keywords until someone shouts 'Bingo' (or choose your own explicative!).
Any of these will supply a whole load of fun and taste — on a budget if you wish — and in the end produce enough smiles to make them excellent gifts.