KHU's E3 News-Center (Frequently Updated)

Waddap, gang!  Excited about E3 and the slew of new games and hardware that will be featured?  Especially psyched about Uncharted 3, Catherine, and/or Deus Ex?  Well, if you're here on KH Ultimania, you're probably also pretty amped up about Kingdom Hearts: Dream Drop Distance – I dunno, just a guess.  Well, if you are, good news for you:  KH Ultimania, and this news post more specifically, will be your one-stop…not shop, but one-stop-something-or-other for all things Kingdom Hearts at E3!  So, it will probably do you quite a bit of good if you bookmark this page, or tab it in your browser.  It will be frequently updated with new news and content as E3 is rolling by.
While you're at it, you should also keep your eyes on the KHU Twitter, and more importantly, Churro's own Twitter account since our main-news-man will be at E3 in the flesh!  So, aside from Kingdom Hearts goodness, you'll also be able to keep up with some other good stuff.  And, of course, Square Enix's own recently spawned E3 page will probably be a good source for high-quality trailers and screenshots.
And with that, the news:
——————————————————————————————————————————————-
June 1st 2011 – XX:XX / Example Post
by JC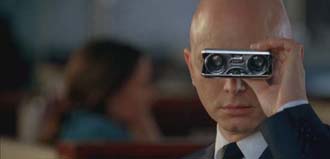 Oh look!  It's The Observer!  Won't be too surprised if somebody catches one (or a few) throughout E3.  In any case, this is just an example post and format to follow.  Any images and thumbnails will be the first thing below the header, followed by information.  The newest posts will always be on the top, so come E3, this Example Post will be all the way on the bottom.  So, pretty easy and simple to follow, right? 
FYI, you commenters need to start behaving a wee bit, knucka!

——————————————————————————————————————————————-
Source(s): Will be updated as they pop up.